A Gas Range Viking Range Review
Viking now has three different 30" gas ranges to choose from, all available in assortment of colors with varying price points. The following Viking range review will break them down and also show their ability to be featured pieces in Viking kitchen packages.
For a general overview of Viking ranges and Viking kitchen appliance packages, see our Viking appliance guide.
Viking 3 Series Gas Range - Affordable Luxury
Around 10 years ago Viking released a line called D3 that would be more contemporary looking and be de-featured from their standard lone of pro ranges so they could be delivered at a lower price point.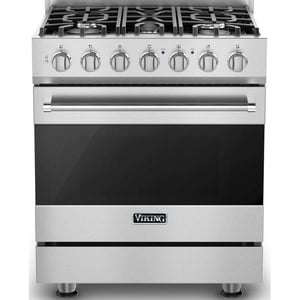 Through the years the D3 stove was constantly tweaked until it became the Viking 3 Series, the current iteration of the line. Only available in a 30" size, but with a variety of color options as well as being available in gas , dual fuel or electric. Some of the ranges features include:
Continuous smooth cast iron grates
5 Burners
Self clean oven even on all-gas model
Sleek contemporary design
Telescopic racks
Convection oven
The Viking 3 Series range, or RVGR33025BSS has a retail price of $4299.
Viking 5 Series Open Burner Gas Range - The Icon
If you or a friend has purchased a Viking gas range between the late 90's and early 2000's, odds are that it is an open burner model.
This was the Viking gas range that set off the explosion in commercial, high end kitchens that continues to this day.
In 2015 Viking decided to re-launch this iconic stove in a 30" and 36" version, at a lower price point than their normal 5-series sealed burner models. The 30" version, or the Viking VGIC53014BSS (also released in a 36" version).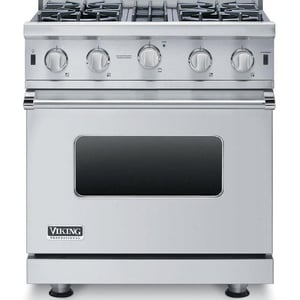 This model features:
Gourmet-glo infrared broiler -

Lock in all the savory juices of even the thickest porterhouse with the intense heat of the restaurant-quality btoiler. Intense heat from broiler sears meats and fish locking in juices.

Convection oven

Open burners max out at 15K BTUs
6-rack positions in oven, 4.0 cu ft
The Viking 5-series open burner range (30") sells for $4279
One significant benefit of purchasing this range is that you can take advantage of the Viking promo which gives you a free Viking diishwasher or microwave, which has a value of up to $1799.
Viking 5 Series Sealed Burner Gas Range - Luxury Value
If you are looking for the rugged, commercial look that Viking is known for, as well as next level cooking performance, the ability to customize in colors, then look no further than the Viking 5-series, 30" sealed burner range . The VGR5304BSS is the best selling range in the entire Viking lineup as it offers everything Viking has become famous for over the years, while adding new wrinkles that separate it from it's open burner and 3-series cousins.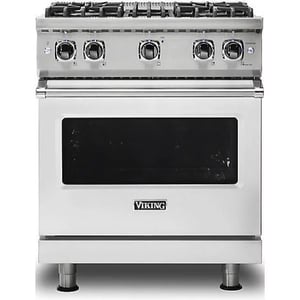 The Viking VGR5304 gas range offers the following features:
4 sealed brass burners
Individual cast iron cooking grates are lighter to lift, easier to clean
Offers up to 18,500 BTUs of heat
Porcelain cooking surface keeps spills in one place
Infrared broiler
Convection oven
2 slide out telescopic oven racks
The Viking VGR5304BSS gas range sells for $5189 and also makes you eligible for the free Viking dishwasher ($1599) value.