I'm happy to announce that we have added Heat grills to the ever-expanding outdoor portfolio here at Curto's.
Why would I decide to floor yet another "mass premium", overseas-born grill that will compete with likes of Lynx Sedona, Alfresco Artisan, Blaze and the Noah's Ark of gas grills - Coyote, Lion, Bull etc?
Because Heat has an interesting story to tell and it comes in at a really, really nice price point.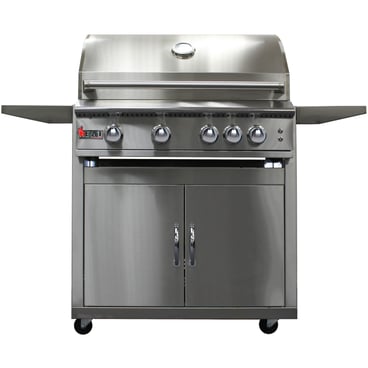 Since 2015 we have sold many Blaze grills. Customers were drawn to them b/c they looked nice, had some compelling features, came in at a reasonable price point, and offered a myriad of undercounter items enabling the creation of moderately priced outdoor kitchen.
So the Heat has taken the better parts of the Blaze, and ADDED to the mix. Actually, it has incorporated features from the Blaze Pro (hotter burners, thicker and better shaped grates and LIGHTS) and brought them in at a price point that is just north of the regular Blaze line and significantly less than the Blaze Pro. Another advantage of Heat over the Blaze Pro is that it is offered in multiple sizes - either a 32" (akin to the Blaze4 or Blaze Pro) and now a 40" (akin to the Blaze 5, Blaze Pro does not have an offering at this size).
I am anticipating a lot of movement with Heat. So much so that I predict it is going to seriously crimp the Blaze sales. Call us or visit during Grilltoberfest (running through 10/31) where we offer the lowest grill prices of the year. And keep checking in here as I plan on doing a fair share of blogging about Heat through the Fall and Winter.