If you are in the market for a new frontload washer, do yourself a favor and consider the Whirlpool WFW92HEFW,
These machines are loaded with features:
4.5 cu ft of capacity
Pre-soak option
Steam clean option which removed deep soiling
But the key feature is something called the 12 Hour Fan Fresh option. This enables the activation of a fan after your load is finished and also takes clothes for a gentle tumble for up to 12 hours. This motion keeps the air in the drum fresh and does not allow for the stagnant atmosphere which will spawn mold and mildew (the nemesis of front load washers).
The 92 model comes in 3 different flavors
The

WFW5620HWcomes in white and is the most popular color.
The

WFW6620HC

is the version in chrome shadow, a darker metallic hue.
The

WFW92HEFC

is the version that is closest to a traditional stainless color called diamond steel.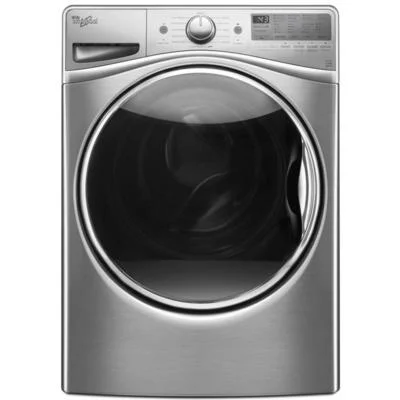 Built in the United States, the WFW92 models are also Energy Star certified and offer am Ecoboost option which will use lower water temps as well as extended tumbling so the dryer does not have to be used as long.. This will save $$'s as well as contribute to a healthier planet.
The clincher for the WFW92 is the pricing. While the MSRP's aren't inexpensive as they hover between $1299-$1499, the washers, particularly the WFW92HEFW and the WFW92HEFC go on promo sale several times throughtout the year. When these promo periods take placce, the prices drop tremendously, and it's not out of this world to see the machines sold for $799-$899. These promo periods are run during President's Day, 4th of July, Labor Day and Black November.
For more info on the Whirlpool line of washers or for a coupon towards the purchase of one, please email us or call us at 1-800-966-2878.