In this blog post, Senor Smoke from Curto's decides to experiment by merging the Alfresco solid fuel insert with his DCS BH136 grill...all during a Nor'easter!
As we are bludgeoned by the 4th Nor'easter this month (and on the second day of Spring!) I made an early departure from the showroom and while shoveling my driveway decided to do something to commemorate this white and stormy start to Spring. It was time to fire up the DCS grill.
However I decided to add a twist. Instead of simply grilling over the normal (boring) burners, I decide to take the Frankenstein approach: I would use the DCS grill but I was going to attempt to integrate my beloved Alfresco solid fuel insert (SFIPOD) to cook over a live fire.
DCS will be releasing a solid fuel insert this Spring, and in no way am I advocating the purchase of the Alfresco SFI-POD to use with your DCS. The insert does fit, but it is a bit awkward and sits very high off the grill. Yet, when the Fogo lump coal was ignited and the steak was thrown on, the results were magnificent!
As I have stated to many of my customers, the ability to grill over solid fuel has completely changed the way I cook outdoors with a gas grill.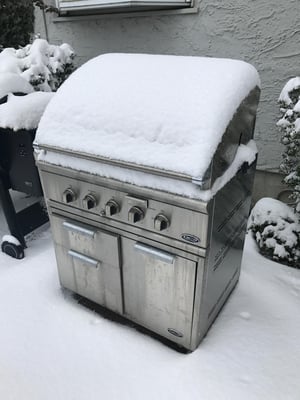 I rarely, if ever, cook over the normal gas burners. To this man, they are simply there out of convenience. The ability to get that lump coal and/or wood fired up is simply a game changer and takes us back to a more primal time where man always cooked with fire.
One interesting thing to note om using the Alfresco solid fuel insert with the DCS - because the DCS grill puts off more heat than the Alfresco, at least in the short term, your solid fuel ignites QUICKER!. So wrap your mind around that for a second - you can now get the incredible, olfactory sensation of cooking with charcoal or wood, now, in a matter of minutes!
Any questions, please email me at jonathan@curtos.com. And if you live in the tri-state area, please visit the Curto's showroom so we can help you with your grill purchase or outdoor kitchen!