The refreshed Dacor Heritage series of cooking appliances may offer the best deal in the high end sector.
I recently had a customer who was shopping for replacement 30" range for their kitchen. High output performance was a necessity so we went through the usual cast of characters - VIking, Thermaor, Bosch, Monogram, Superiore(?). On the 3rd visit, she decided on a....Dacor. How did this happen? I will admit, Dacor has not been top of mind for me. We have a great, simple and direct display, but I have traditionally viewed their strengths as ]killer cooktop/rangetop + wall ovens along with refrigeration and dishwashers. Ranges were never top of mind.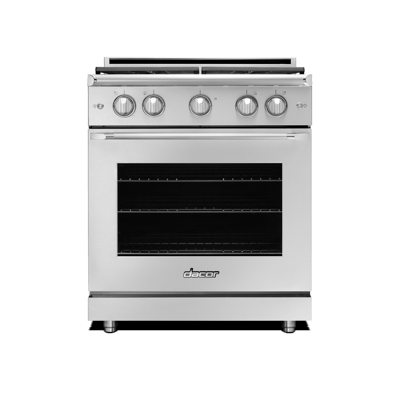 However, the traditional Heritage series (which seemed to get lost in the shuffle of their chainsaw wielding Ford model Modernist line) offers incredible value, particularly when it comes to ranges. My customer went with the HGER30, which is a 30", gas, self clean (rare to find that in a gas oven) pro range. And make no mistake about it, it's a pro range. The door closes with the integrity and authority of a Capital range, the racks slide out smoothly, and the cast iron grates are heavy duty. I won't waste time here with the tale of the tape bc you can get that from the range's product page, but the key points are:
Dacor Range Features
5.2 cu ft capacity oven - that will fit a commercial baking pan. Can't find many 30" ranges that will accommodate that
18,000 BTU burner in front
Infrared ceramic broiler for searing
3-year warranty after registering with Dacor
Product is built in California
It's Not a Samsung, it's a Dacor
If you are looking for the true heritage of Dacor, an iconic brand in the world of premium cooking appliances, look no further than Heritage series. This is not a Samsung'd (Dacor's owners) version of a Dacor. This is a DACOR.
And at $3899, with a $500 mail in rebate, you are now outfitting your kitchen with a true pro range at barely a tick over $3000. That is a home run.
If you have any questions about Dacor appliances please call us at 1-800-966-2878 or jonathan@curtos.com