Lynx Grills has never been a company that has shied away from innovation. Actually, I would argue that they are the most innovative gas grill company in the premium space. A we enter the 2018 grill season (in the Northeast) Lynx has announced another innovation, this time targeting what may be the most important part of your grill - the burners.
For years Lynx has extolled the virtues of their brass burner. It was heavy-duty, got extremely hot, and was attractive to the eye. The burners would be left on display cases so customers could pick them up and feel the tangible difference between their brass burner and everything else out there. After awhile, the brass burner became Lynx' calling card.
Now. that has all changed.
Starting April 1, Lynx began to ship grills with an innovative "fired ceramic" burner. Here is a pic: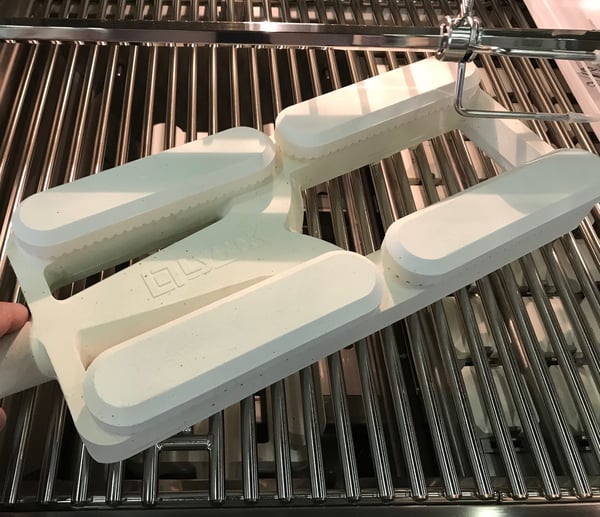 I spoke to a Lynx executive and he told me there were several reasons why they made the switch to ceramic from brass.The new ceramic burner would:
- offer significantly faster heat times and better heat distribution.
- essentially be self cleaning and require no-maintenance.
- offer stronger temp control up to 25K BTUS
- not be susceptible to corrosion due to contact with acids in marinades and fats that drip from the grates
Another main driver for the move to ceramic is the belief that they will last longer than brass. If you look at the above picture you'll see that the ceramic burner is not top ported like the brass, but instead has ports on the side. This will protect the burner ports from getting clogged by drippings which was a major factor cutting the life span of the brass burners.
I fully buy into the above selling points and look forward to testing the burners. My only concern would be the fragility of ceramic vs brass (I have years of experience with kamado smokers and the fireboxes do have a tendency to crack, thus the lifetime warranties placed on them). i addressed this point of concern with Lynx and they stated that since the burners are under both the grates and the ceramic briquette trays, they would not be exposed to anything that would harm them.
If you have any questions re: Lynx grills or outdoor kitchens, please call the showroom at 1-800-966-2878 or visit the Curto's showroom in Westchester County. And remember we ship all of our grills Nationwide.