One of the advantages of the Lynx grill line is that they offer one of the largest portfolios of products for your outdoor kitchen.
Whether you are just a weekend grill warrior or if you want to take things next level with a variety of different cooking styles, Lynx has the solution. However, with that lengthy list of products, it may become challenging to narrow down to the set square footage where your outdoor kitchen will be located.
So in order to serve those who need some help filtering, I present the 4 Indispensable items for your Lynx Outdoor kitchen: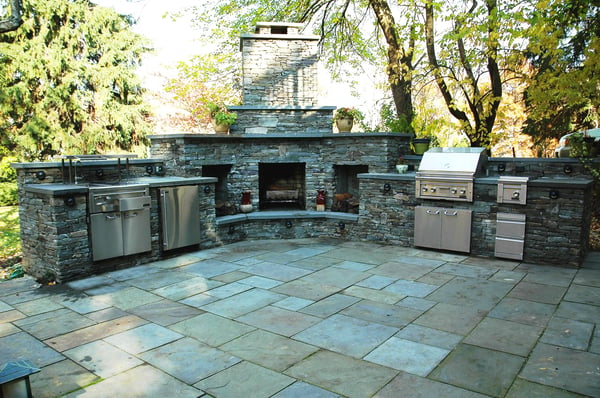 1 - Lynx 42" All Trident Grill - L42ATR
We start the island with the keystone piece - the grill. 42" is the sweet spot, providing enough real estate to cook for a party, but also provide a comfortable space where you won't feel lost cooking for your kids and significant other on a Tuesday night. Also note - I used the Lynx all Trident Infrared burners grill, the L42ATR. You simply have more flexibility with Trident than with any of Lynx' other burners.
2 - Lynx 24" Power Burner - LPB
Ready to deliver 47,000 BTUS of ripping heat, yet able to dial down and tame itself at 3000 BTUs, this power burner means variable intensity. At 20" side, the Lynx LPB power burner provides enough space to handle stock pots and the removable middle allows for a commercial wok.
3 - Lynx 24 Drawer Refrigerator - LM24DWR
Most people opt for a one door, 24" outdoor refrigerator. Why? Because that's what they are being sold. I say rebel against conformity and run with a 24" drawer fridge. The Lynx LM24DWR is UL rated for outdoor use, offers security locks, blue interior lighting, is Energy Star rated, has full extension racks and has copious space - 5 cu feet of capacity, nearly doubling that of a single door outdoor refrigerator.
4 - Lynx 42 Door Drawer Combination - LSA42
I always recommend a door drawer combination under the grill, as we kill two birds with one stone - the single door grants us access to the innards of the island, so we can manage utilities like water and gas. The drawers gives us storage space for tools, condiments or other frequently used products. The LSA42 is part of Lynx' Ventana line which does not use their professional handles. That also allows the Ventana line to be paired with any other outdoor kitchen as there won't be clashing aesthetics due to the handles.
For more info on Lynx Outdoor Kitchen products please call a Lynx specialist at 1-800-966-2878 or visit our online Lynx grill guide