The Superiore 30" Range May be the Best Value in Pro Market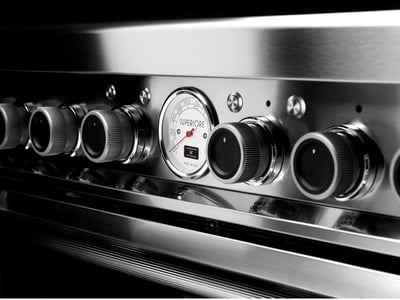 I've had several instances lately where I have bee walking customers around the showroom who are in the market for a 30" pro range. We'll go through the regular list, Viking, Thermador Pro Harmony, Monogram. I've even begun to work the Dacor 30" Heritage series into the mix now with their $500 rebate and low price for a self-cleaning gas range.
But surprisingly the range that has been garnering the most attention in that market is by a little known (in the US) Italian company with a product that looks like it would be well placed in the Uffizi gallery. Ladies and gentlemen, allow me to introduce you to Superiore....
The Superiore RN301GPSS is a 30" gas range which boasts Italian "bella figura" or design chops, but instead of just sitting pretty in your kitchen like most Italian ranges that don't kick off enough BTU's, have inferior broilers or have ovens similar to the Betty Crocker Easy-Bake oven, the Superiore has the largest oven capacity of any Italian stove, and I would feel comfortable stating it's oven is larger than any other pro 30" in the market, especially if you are measuring headroom.
The people who created the Superiore brand were adamant that they were going to create a different stove than their Italian counterparts. They wanted to design something that espoused the virtues of Italian design YET was built for the American market.
Stainless Superiore models are part of their NEXT series of ranges (they have a separate series of matte colored ranges under the Deco umbrella). The NEXT models come in 24" , 30", 36" and 48". The 30" is the one that we have seen the most play with customers.
Superiore 30" Range: Flexible Power
(3) 18,000 BTU brass burners (one of the power burners has an inner ring that can go down to 750 btus)
(1) 6500 Btu brass burner
5.7 cu ft capacity oven
1 telescopic glide rack
Wok ring
Trivet
Cast Iron grates
Sabbath mode
2 Year warranty
All of this for $2899.
Compare that to the other pro gas 30" ranges that range from the mid $4000's to mid $5000's and you begin to see what a fantastic deal the Superiore RN301GPSS is.
For more information on the Superiore Line of ranges call us at 1-800-966-2878 or visit the Curto's showroom at 1966 Central Park Ave, Yonkers NY 10710